Introducing The Classic Tea Bag Variety Pack.
Posted on
We have renamed all our popular Taster Packs to Variety Packs.
Our Variety Packs are the ideal way to try several of our teas without having to buy a lot of full size packs. They are great if you wish to vary the type of tea you drink during the day or if you fancy a change now and again. They also make an ideal gift for the tea lover.
We have changed the name from Taster Packs because the quantity of each tea (50g loose or 15 tea bags) was just over a third of a regular pack, providing much more than just a taste.
We recently added some more teas available in tea bags, including Kenya and Russian Caravan. We have combined these with some of our other classics teas to create The Classic Tea Bag Variety Pack.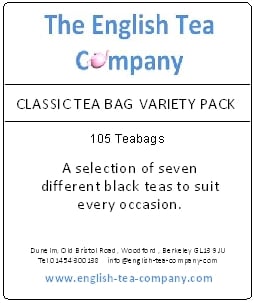 It contains 105 tea bags featuring 7 different types of tea: Assam, Ceylon, Darjeeling, English Breakfast, Kenya, Russian Caravan and our best selling Bristol Tea.
Like our Classic Loose Tea Taster Pack they cost £10 and include a £1 gift voucher for future use. For a limited period if you send a Variety Pack to a 3rd party as a gift, both you and the recipient will receive the gift voucher.