Anyone who runs a business will know that some days you seem to get more attention from those who want to sell you stuff rather than buy from you.
In principle I don't object to unsolicited contact, it is possible that someone may have something you have not previously considered. One of the joys of owning a small business is that you are free to innovate and refine your business relatively quickly, particularly around product offering.
Unfortunately much of the unsolicited contact isn't very good, as demonstrated by this email that arrived today.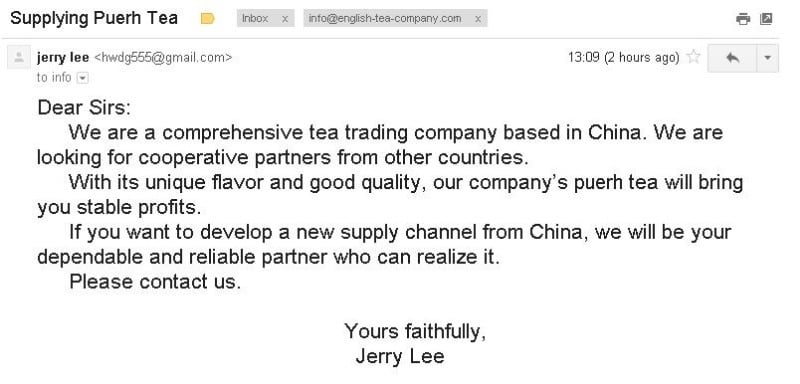 A few pointers as to why I consider this bad marketing.
Their email address. I tend to be suspicious of organisations that use a Gmail or Hotmail address, especially one that looks like a jumble of letters and numbers
The impersonal nature. It's not that difficult to find out who I am. There is a handy 'About' tab on my website.
I'm sure their tea is very nice, but he doesn't indicate how these 'stable profits' are to be made. Some idea of price is always helpful.
No company name. They may be a comprehensive tea trading company, but why the secrecy about who they are?
No other contact details. Apart from the email address there is no other way to contact the business. An address (as well as the company name) would at least allow an internet search to find out more about them.
Relevancy. I don't currently sell Pu-erh tea. A better pitch would surely be to acknowledge that I don't currently sell it and suggest a good reason for doing so