Bad Marketing III
Posted on
Today's entry comes from.......yes you've guessed it China!
At first sight this doesn't look like a disastrous sales pitch. As a tea packer I am always on the look out for new ideas for packaging my goods. Therefore the products being promoted have relevance to my business, unlike the cosmetic brush seller earlier.
Many of my bugbears are missing, there is plenty of contact info and a website.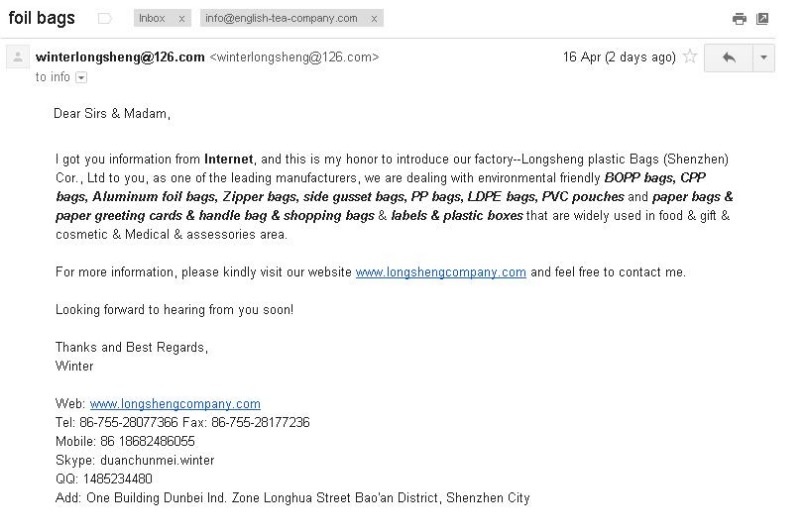 Unfortunately when you click through to their website, it is a frustrating experience. Areas on the top right of the screen which are clearly designed as links to other sections of their website don't have any links inserted. On the bottom half of the page, hovering over the product categories reveals that the link is to the page you are currently on.
When you do manage to get through to the product pages there is no pricing information. This is always annoying. Price is always fundamental not only to making a purchasing decision but deciding if it is worth the effort to find out more. An indicative price and details of minimum order requirements could either tempt me to find out more or even prevent me from wasting both my time and theirs by making a pointless enquiry.
However the biggest howler is to be found in the description of many of their products
"5.All showed photos only for you reference we aren't authorized to sell the products"
I'm sure they don't mean that, but quite frankly I've spent enough time trying to navigate their website, so it's a no from me.