Free delivery to Thornbury homes and businesses.
Free delivery to Thornbury, South Glos customers.
If you live or work in Thornbury we are able to offer you free delivery to any address with beginning with a BS35 1 or BS35 2 postcode.
Shopping locally and paying by cash means we are able to use the savings from card processing fees to offer you free delivery to your home or office.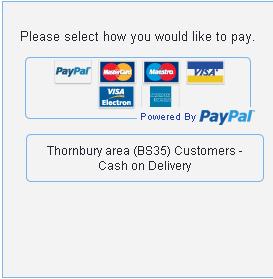 How it works
Shop as usual but with the following differences
At the checkout choose 'Thornbury area (BS35) Customers-Cash on delivery' as the payment method.
If you are sending tea to a Thornbury address as a gift then pay as normal.


For the delivery method choose 'Thornbury area residents'.
Use the 'Special Instructions' box to tell us the best time to pop round.